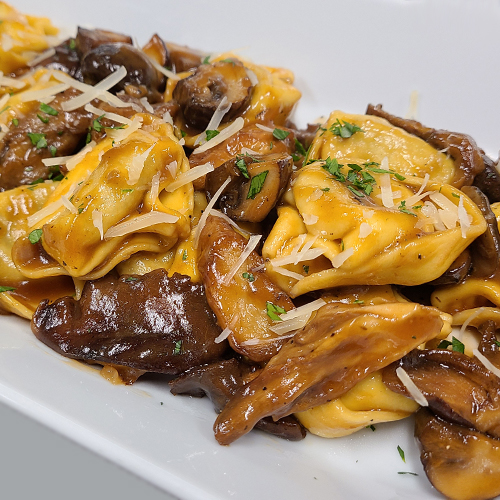 Veal & Beef Tortelloni with Wild Mushroom Medley with Demi-Glace
The perfect savory dish using our much-loved Veal & Beef Tortelloni. SKU #22445
Ingredients
1

Lb

Wild Mushroom Blend (cremini, oyster, shitake, chanterelles, trumpet, etc.)

1

Cup

prepared Beef or Veal Demi-glace

2

Cups

Beef & Veal Tortelloni

2

Tbsp

Butter

Parmesan Cheese

Bunch of Fresh Parsley
Instructions
Prepare mushrooms, clean and cut, leaving in larger size pieces.

Melt butter on medium-low heat and sauté mushrooms until tender, 5-10 min.

Separately cook Tortelloni. Bring 4 quarts of water to a rolling boil, add Tortelloni and cook until internal temperature reaches 165˚F or approx. 3-3 1/2 minutes.

Add prepared demi-glace to the mushrooms and heat.

Fold in Tortelloni with the sauce and mushrooms.

Plate and top with fresh Parmesan and fresh cut parsley.