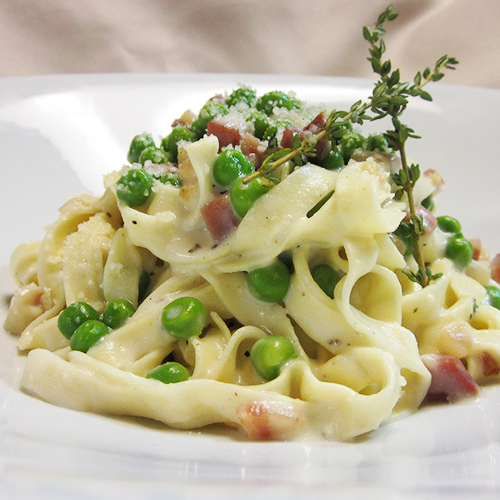 Gluten-Free Fettuccine with Pancetta, Peas, Cream and Parmesan Cheese
Our favorite creamy recipe with pancetta using our Gluten-Free Fettuccine. SKU #01306
Ingredients
½

Cup

Pancetta, diced

2

Tbsp

White onion, diced

1

Tsp

Garlic, minced

½

Tsp

Thyme, fresh, chopped

2

Tbsp

White wine (pinot grigio or similar)

¾

Cup

Light cream

½

Cup

Chicken broth

½

Cup

Sweet Peas, frozen, thawed

Salt and black pepper to taste

Parmesan cheese to taste

12

Fettuccine

Nests
Instructions
Add the diced pancetta to a large sauté pan and cook over medium heat to render the fat out.

Carefully poor the pancetta into a strainer set over a bowl.

Return the cooked pancetta along with 1 Tbsp of the fat to the sauté pan.

Add the onion, garlic and thyme and sauté until onions are translucent.

Deglaze with the white wine and reduce the wine by 50%.

Add the light cream and chicken broth.

Add the sweet peas and season the sauce with salt and pepper.

Cook the GF fettuccine nests according to package instructions and when ready, toss into the sauce.

Divide the pasta into 4 shallow bowls and top with grated Parmesan cheese.