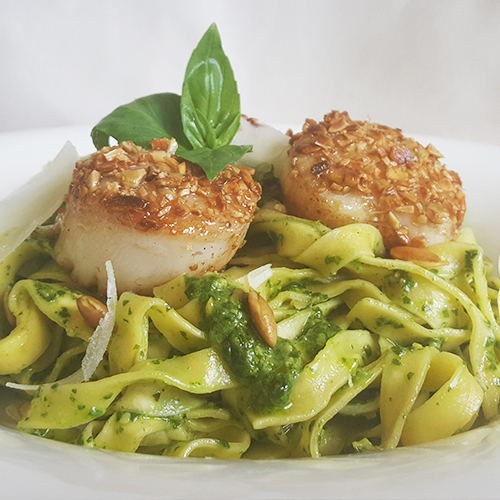 Egg Fettuccine with Seared Scallops and Pumpkin Seed (Pepitas) Pesto
Induldge in this delicious dish with our made-from-scratch Egg Fettuccine nests. SKU #01106
Ingredients
Basil Pesto
1½

Cup

Basil leaves, packed

1½

Cup

Baby spinach, packed

1

Tsp

Garlic, minced

1/3

Cup

Pepitas, roasted no salt

1/2

Cup

EVOO

1/2

Cup

Parmesan cheese, grated

1

Tsp

Lemon juice, fresh squeezed

1

Pinch

Salt and cracked black pepper
Scallops
16

Ea.

Scallops, U 10-15 dry scallops

1

Pinch

Salt and cracked pepper

1/3

Cup

Pepitas, roasted no salt, chopped fine
Instructions
Basil Pesto
Add the basil, spinach, garlic, pepitas and Parmesan cheese to the food processor. Pulse to chop all ingredients. Add lemon, salt and pepper and with the machine running, drizzle in the EVOO. Check the seasoning and adjust if necessary.
Scallops
Clean the scallops and pat them dry with paper towels. Season with salt and pepper and crust 1 side with crushed pepita seeds. Pan sear the scallops in a pan with vegetable oil until lightly golden on each side. About 2-3 minutes of cook time.
To Serve
Cook the fettuccine in simmering water, drain and add to a sauté pan. Toss with the basil pesto. Divide the pasta between 4 pasta bowls. Top with 4 scallops, fresh basil, shaved Parmesan and pepita seeds.