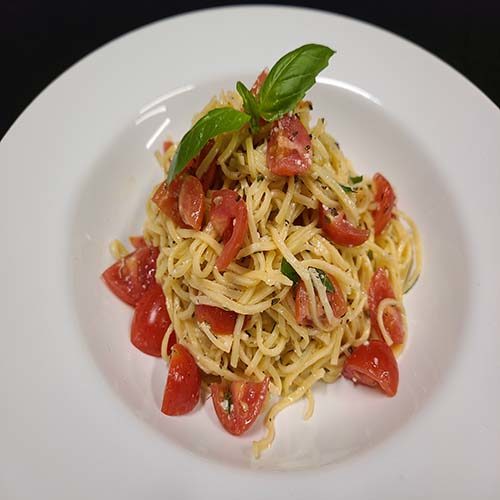 Summer Angel Hair Tomato Basil Salad
A refreshing summer salad using our Angel Hair Nests. SKU # 04108
Ingredients
4

Angel Hair Nests - JGP Item 04108

¼

Cup

Extra Virgin Olive Oil*

½

Cup

Cherry Tomatoes**

½

Cup

Grated Parmesan Cheese

Small bunch Fresh Basil

1½

Tbsp

Dried Basil

Salt & Pepper
Instructions
Prepare Vegetables: Cut cherry tomatoes in half. Roughly chop about 1 Tbsp fresh basil.

Cut each nest of Angel Hair pasta into 2 equal halves. This makes the noodles shorter and easier to eat as a cold salad.

Cook Angel Hair Pasta according to directions: Bring 4 quarts of water to a rolling boil, add pasta nests and cook until internal temperature reaches 165° F or approx. 1 - 1½ minutes. Quickly cool under cold running water, drain and set aside.

Fold together the pasta, tomatoes, oil, fresh basil and dry basil. Finally, fold in the parmesan cheese with all ingredients and mix evenly.

Cover and refrigerate for best results.

Before serving, add salt and pepper to taste.
Notes
*Some extra virgin olive oil can have a strong flavor. If necessary, you can cut the extra virgin olive oil with half EVOO and half plain olive oil.
**You can use cherry tomatoes but plum Roma tomatoes work well too.
This works great as a simple side salad or add chicken or grilled shrimp to make it more of a meal.
I suggest using both dry and fresh basil as they give off different flavor notes. While fresh basil gives a nice aroma and fresh flavor, the dry basil combined with the EVOO gives a rich deep basil flavor throughout the dish.
This is a very simple dish, feel free to experiment adding more or less cheese or other herbs to make it your own.