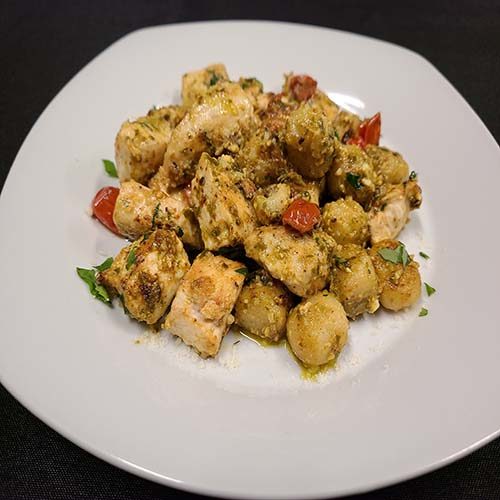 Chicken Pesto Gnocchi
Using our Cauliflower Gnocchi, create this delicious dish for lunch or dinner. SKU #24381
Ingredients
2

Cups

Cauliflower Gnocchi (24381)

1

Cup

Grape Tomatoes

2

Chicken Breasts

2

Tbl

Olive Oil

1

Tbl

Butter

½

Cup

Pesto

¼

Cup

Fresh basil

¼

Cup

Grated Parmesan

Salt & Pepper
Instructions
Prepare ingredients: Cut grape tomatoes in half lengthwise. Cut chicken breasts into 1" pieces. Roughly chop basil.

Over medium heat, heat 1 TBL of oil in a pan. Salt and pepper chicken pieces and cook until golden brown on all sides. Set aside.

Heat a pot of water on high heat. Once boiling add gnocchi and cook 3-4 minutes. Once cooked, drain and set aside.

In a sauté pan, melt butter over medium high heat. Add tomatoes and cook until they start to break down. Add in gnocchi and allow to lightly fry on all sides, stirring tomatoes and gnocchi around.

Add back in chicken pieces and warm. Add in pesto and remaining tablespoon of oil. Mix until evenly combined.

Plate and top with grated parmesan and fresh basil.
Notes
***Chef's Notes***
Try adding bacon. Cut bacon into small pieces and swap out for the butter. Render bacon fat and continue cooking at step 4, adding tomatoes and so on.
Add other vegetables such as: artichoke hearts, red pepper, spinach, kale.